7 ways to uncork an effervescent holiday party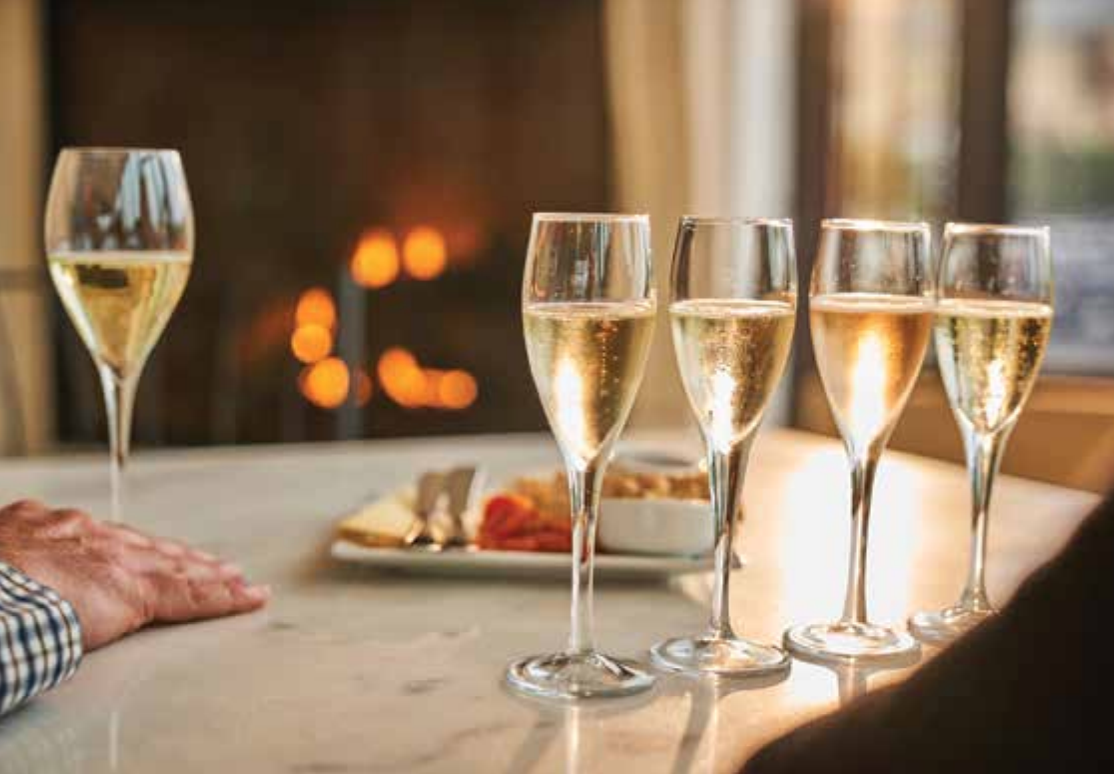 By Sally Kilbridge
Being greeted with a tray of Champagne or sparkling wine speaks volumes. Those tiny bubbles racing toward the rim signal that you're in for a festive evening. So how about hosting a party where the sparkling stuff flows all night? To help you do it right, we wanted some expert guidance. Domaine Carneros, which consistently wins top prizes for its traditionally produced sparkling wines, is one of the most famous wineries in California. Its pedigree is impeccable, having been established by the family behind Champagne Tattinger, and its French-style château is a Napa Valley landmark.
With input from CEO Remi Cohen and sparkling winemaker Zak Miller, here are tasting tips from the top.
1.Bring on the bubbly
There's a wide range of choices out there, and if you've got the budget, by all means treat your guests to true French Champagne. But most people would be delighted to sample premiere domestic sparkling wine. Whichever way you go, three different types of bubbly would be ideal for a tasting. As for the order of serving, Remi Cohen says, "While we don't recommend being too fussy in terms of the order in which you taste, and we encourage exploration and experimentation with wine tasting, there are some guidelines we can suggest.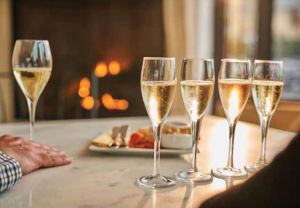 A good general rule to follow is to start with wines that are driest and lightest bodied and move on to more robust or sweeter styles." Using her own wines as examples, a good start would be Domaine Carneros Ultra Brut, a very low-dosage wine, meaning minimal sugar has been added to balance the natural acidity. Follow that with a slightly higher dosage level, such as the vineyard's Estate Brut, which winemaker Zak Miller creates to be their most versatile. Finish with Le Réve Blanc de Blancs, the winery's top blend or tête de cuvée. Aged twice as long as their other sparklers, it achieves a distinct richness.
2. Measure the amount
There are five to six glasses of wine per bottle, and since you'll be pouring bubbly all night, that works out to at least a bottle for two people. Buy extra to be on the safe side. It won't go bad, and it's wonderful to have a bottle chilling in the fridge for unexpected celebrations. (See "Store your leftovers.")
3. Just chill 
While the ideal temperature for serving bubbly is 42°F, Domaine Carneros winemakers maintain that it's really a matter of personal preference. Having said that, sparkling wine should definitely be cooled before serving. Three hours in the fridge is a reliable timeline, but if you're in a rush, fill a large container or ice bucket with ice, water, and salt (about 3 tablespoons of salt per tray of ice cubes), and let the bottles chill for 15 minutes. Or in winter, go the natural route and stash a few bottles in a snowbank for an hour. A bottle left in the snow too long will explode, so set a timer.
4. Prepare your glasses
The rules are simple: Make sure your glasses are free of detergent residue, which is the archenemy of bubbles. (Using very hot water instead of soap to wash your glasses is perfectly safe, just dry with a clean linen towel that hasn't been used on other dishes.) Don't worry about chilling your glasses — as the winemakers say, this isn't beer. And, advise the Domaine Carneros experts, "The glass is less important than the wine. Don't feel you must run out and purchase a whole new set of stemware for entertaining — use whatever glass you have handy."
Their own winemakers use regular wine glasses during their technical tastings. Among your options:
• Flutes with tall, narrow bowls are classic, and their long stems let you handle the glass without warming the liquid.
• Tulips are long and narrow like flutes, but the bowl narrows toward the rim in order to send the effervescence and aroma to your nose.
• Coupes are the low, wide, saucer-shaped glasses that are making a comeback.
• Universal wine glasses are becoming more popular for all types of wine, including sparkling.
5. Uncork with confidence
This is the step that worries people the most, but is actually quite simple.
• Wipe any moisture from bottle.
• Remove the foil from the wire cage that wraps the cork.
• Tilt the bottle away from you — and your guests — at a 45° angle.
• Place your thumb on top of the wine "hood" and twist the circular tab six times in order to loosen the wire cage. The loosened cage will remain on the bottle until the cork is released.
• Keep your hand on the neck of the bottle and your thumb on the top of the wire hood.
• Twist the bottle (not the cork) with your other hand, to release the cork with a slight hiss. Popping the cork will cause you to lose wine, and you don't want that!
• Keep your thumb on the cork until it is entirely out of the bottle. Never point the bottle at anyone, and don't set the bottle aside if you've loosened the wire cage but the cork is still intact.
• If the cork is difficult to remove, use a cloth napkin or a champagne key.
6. Pair food and drink 
Though bubbly is the star of your evening, Remi Cohen says that food will play an important role. "The hors d'oeuvres set the stage for the rest of the festivities, so I love creating enticing appetizers." One of her favorites is cucumber slices topped with crème fraîche, smoked salmon, and a dill sprig. She adds a dollop of caviar for a luxurious twist. "I pair these with Domaine Carneros Brut, as the wine's citrus notes complement the delicate salmon flavor, and the creaminess from the extended aging interplays well with the crème fraîche. And of course bubbles with caviar are a classic holiday pairing!"
She's also a big fan of Mt. Tam triple-cream cheese from winery partner Cowgirl Creamery. For colder months, she likes Mt. Tam stuffed with apricot preserves and crushed walnuts, wrapped in puff pastry, and baked (you can also substitute a wheel of good brie). "It's an indulgent pairing with Domaine Carneros Le Rêve Blanc de Blancs. The sparkling wine's bright acidity is a perfect counterpoint to the rich cheese, highlighting its creamy texture and silkiness. The complexity of Le Rêve complements the earthy flavors in the cheese."
Winemaker Zak Miller says one of his favorite pairings is, "our Ultra Brut and Dungeness crab, and it's a go-to when Dungeness is released in the late fall, just in time for the holidays. I love how the minerality and the austere nature of the Ultra pairs with the freshness of the crab. Also, acid and butter are a heavenly combination!" With that in mind, put a beautiful bowl of buttered popcorn on the bar, and perhaps finish the night with a tray of buttery shortbread cookies. Other pairings to consider with sparkling wine include Asian dishes, particularly those with ginger and lemon components. Tarragon is a complementary herb, goat cheese is classic, and seafood risotto and pasta play nicely with bubbles and delight guests.
7. Store leftovers
Champagne and fine sparkling wines go through an aging process while in the cellar, and are ready to drink upon release. But that doesn't mean you can't store leftover bottles for a few years. Domaine Carneros says under proper conditions (a cool, consistent temperature with no exposure to light), your wine will develop a toastier flavor with caramel notes. Ten years is about as long as you can go before the effervescence starts to wane. And unlike most wine, you can store your bubbly upright, since the pressure in the bottle creates 100% humidity, which keeps the cork moist.
To read more from Park Record Winter HOME 2023 magazine, click here.
---