Bistro 412 has a secret identity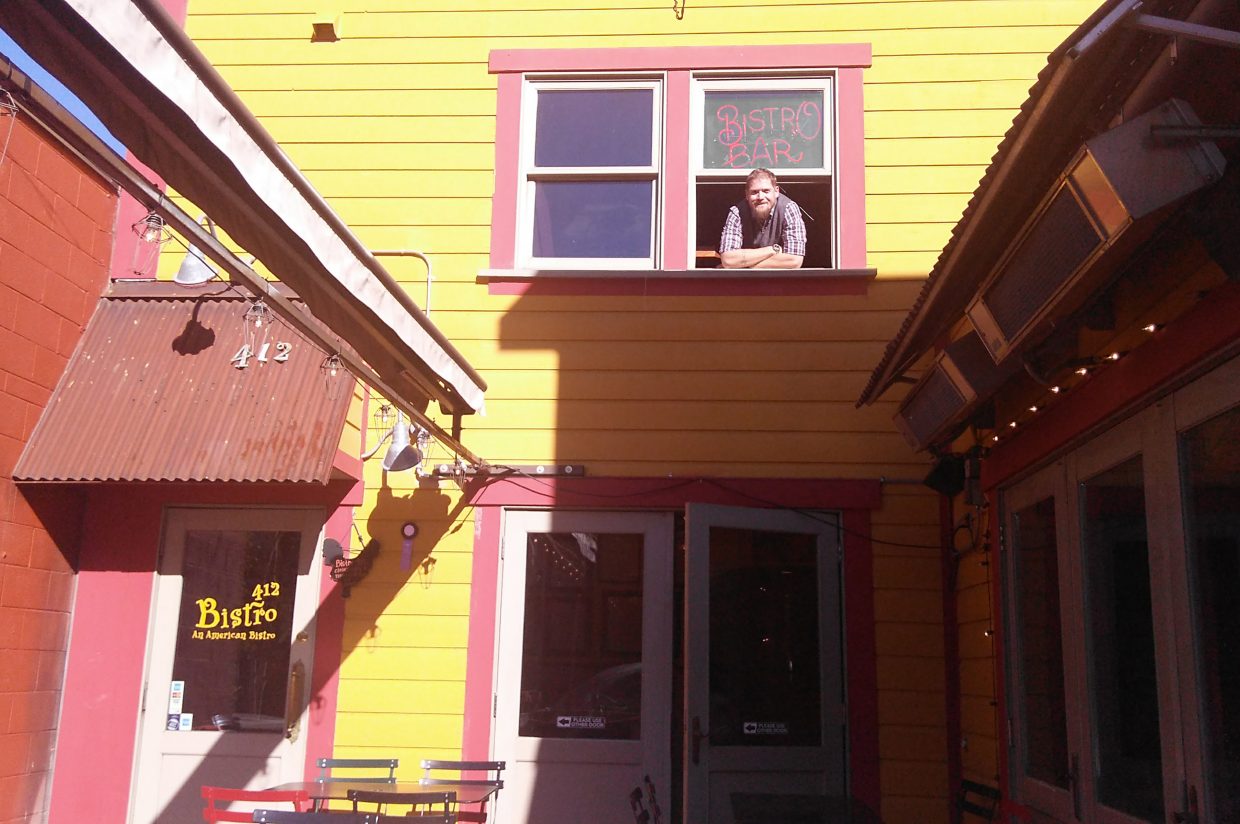 It's always a coup to move to a town and find a locals' hangout, secret stash or bar. But when that location hides in plain sight, much like the Hogwarts' Platform 9 ¾, the knowledge can seem a bit magical.
On the street level of 412 Main Street, Bistro 412 offers an American bistro with a French influence. One level above is Club 412, which was once known as a locals' hangout on Main Street and which aspires to capture that audience again, according to General Manager Brian West, who is working to build the business back into the local's list of 'must go' places.
Bistro 412 has had a steady flow of diners and regular repeat customers almost since Day 1. That's no fluke, said West.
"We commit ourselves to quality food at an affordable price," he said. "We put a lot of time into the preparation and make sure every chef puts in the same effort."
West's personal favorite on the menu is the pan-seared trout entrée.
"It's a Scottish steelhead trout, which is a cousin of the salmon… [Our chefs] use a lemon blanc sauce, with a toasted risotto cake and sautéed kale, and top to bottom, it is a delicious dish," he said.
The beef bourguignon, another signature dish, showcases a more traditional French meal, although all items on the menu have a French twist, West said.
Another European influence at the restaurant is a relaxed pace, according to West.
"I like to see people take their time," he said. "Let them relax. Let them sit there. Let them take their time looking over the menu."
One recent table, for example, stayed for more than three hours. In an American restaurant with just over 50 seats, that is an extended meal time. But West sees an opportunity show off Bistro's wine list.
"Most of the tables that are going to sit here for three hours, are here because we have an amazing wine selection, and they will sit here and enjoy our wine," he said.
Bistro's Bar Manager and Sommelier, Jon Watson, helps keep the restaurant's list interesting for wine lovers, West said.
Club 412
In the shoulder season, Club 412 offers football on game nights, complete with wings specials, and 'Appy Hour' showcases half-off bar appetizers.
Once the winter season starts, interest in football segues to live music.
Bar Manager Jon Watson will book the live entertainment and DJs, and hopes to have some favorites perform on a regular basis.
"This used to be the local dance spot for a good long while, so I'd really like to see that come back. That's my goal for the winter," West added. "Making the locals feel welcome again."
As an alternative to larger, crowded venues, West feels locals Club 412 can offer an oasis. "They can come up here and be amongst friends; be amongst locals who understand, and they can relax," he said. "You get those local bars where you feel safe, you feel welcome, you feel comfortable."
And finding that on Main Street could be a little magical.
Bistro 412 and Club 412 are located at 412 Main Street. Bistro 412 is open for lunch from 11:30 a.m. to 3:30 p.m. daily and dinner from 5 to 10:30 p.m. daily. Club 412 is open daily from 5 p.m. to 1 a.m. Patrons entering after 10 p.m. must be ages 21 or older. For more information, call 435-649-8211 or log on to bistro412.com.
---