Grocery Café provides fresh, casual, local food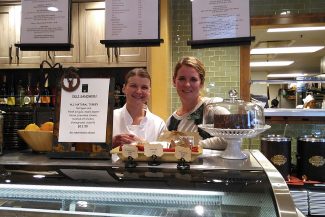 The Deer Valley Grocery Café may not be the largest restaurant in Park City – with 56 indoor seats and a balcony of tables for summer outdoor dining – but it a small but mighty force in the lower Deer Valley area.
The original idea "was a way to feature a variety of the food from around the [Deer Valley] resort in a retail outlet," General Manager Janine Troilo said. "We were developing our own style, our own menu, but we were featuring the turkey chili, the enchiladas… the bakery."
Breakfast and Locals
The Café's style became a hit for locals, and especially helped service diners looking for breakfast options, which were scarce in 2010, when the establishment opened.
"Our location, with the setting, the menu, the freshness of our food, the flavors, and the friendly service [helped us become popular with locals.] We've developed quite the rapport with our regulars. It's like Cheers," Troilo said.
Regulars have their favorites on the menu, and Troilo credits Chef Kristine Horslund for the fresh, flavorful dishes. "Our BLT [maple bacon, heirloom tomato, tarragon aioli and artisan greens on stone-ground nine-grain toast] and tuna melt [Albacore tuna with cumin cheddar, baby heirloom tomatoes, cracked grain mustard on wild rice harvest bread] never seem to bore our customers," she said.
The small café does provide a 'where everybody knows your name' level of locality to its service.
"It's like going to a friend's house. You feel good. It makes you feel warm when you come in and people know your name, and they remember things that you like, and even how you like it," Troilo said.
"And it just happens naturally," she added. "I don't make my staff memorize people, they just do it. They do see certain people every day, and I think naturally, you develop those relationships."
Convenience
The Café is set in the Deer Valley Plaza building, where visitors check-in when arriving. When they turn away from the front desk, the Café's doors open to a variety of deli, bakery, and grocery items, food gifts from Deer Valley and local producers, and take out dishes. It's easy for new arrivals to pick up a few items for the condo while they're already there, said Troilo.
"In the winter, even going to the grocery store seems too far," she added. "For some people, they just got here, and they don't know their way around. For them, it's late, and it's dark, they're tired, and there's snow; if they can just drive down the street and get dinner and bring it back to their condo, all the better."
The grocery side of the business has also become a stop for visitors and locals who want gifts produced locally. Along with a full line of Deer Valley packaged foods (including turkey chili mixes), shoppers can find local meats and cheese, local snacks and chocolates, items that people love because they're local, Troilo said.
Casual Dining
Troilo sees the Grocery Café as filling the casual dining niche. While fine dining options are plentiful on Main Street, there are fewer choices for casual, lower-priced dining experiences.
"The average family that comes here, I don't think there's a desire to eat that way [at a fine dining or fancy restaurant] every day, especially after you're exhausted from a day of skiing. We serve that alternative: if they don't want to dine out, and just want to pick up some things," she said.
One last area the Grocery Café fills is the Thanksgiving meal. They are currently taking orders for a variety of side dishes, including green beans au gratin and roasted garlic mashers, and desserts to contribute to the American holiday.
Deer Valley Grocery Café is located at 1375 Deer Valley Drive in lower Deer Valley, and is open 7:30 a.m. to 7 p.m. daily. For more information on the restaurant and its Thanksgiving dinner options, call at 435-615-2400 or log on to deervalley.com.
---