Hearth and Hill: Eric Diaz Takes the Helm As Executive Chef at Park City's Beloved Eatery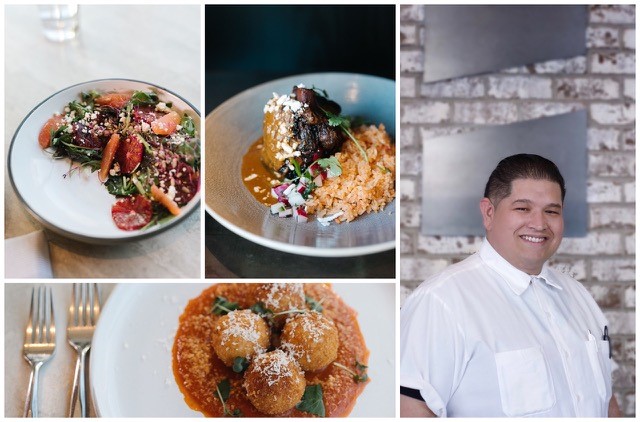 The team behind 
Leave Room For Dessert Eateries
(Hearth and Hill, Hill's Kitchen, Urban Hill) 
is excited to formally introduce Eric Diaz, the new Executive Chef of the group's award-winning flagship concept,  
Hearth and Hill
(
Park Record
's annual "Park City's Best" awards, 
Gastronomic SLC
's "Reader's Choice" awards, and the prestigious "2021 Blue Plate Award" from 
Salt Lake Magazine).
Before joining the team at Hearth and Hill, Diaz cut his teeth at award-winning country club kitchens from New York to California 
(The Vintage Club, The Westchester Country Club)
 until landing a spot at Salt Lake City's fine dining destination, 
Pallet
, where he worked as Chef de Cuisine until the pandemic forced the restaurant's closure. Beyond the kitchen, Diaz spends his free time volunteering at the Park City Culinary Institute with their ProStart program, a culinary arts and restaurant management program for high-school students.
Now, with over a decade of experience, Diaz will continue Hearth and Hill's legacy of providing wholesome, locally driven cuisine to Park City locals and its visitors, while bringing his flare for internationally-inspired comfort food and family-style dining. 
"While creating incredible food that keeps people coming back is the cornerstone of what we do, I also want to focus on emphasizing an atmosphere of continued learning in the kitchen," says Eric. "I want to instill confidence and creativity within my team, making sure they are developing skill sets that'll help them advance."
WINTER MENU HIGHLIGHTS AT HEARTH AND HILL
Winter Citrus Salad — This salad includes one of Chef Eric's favorite seasonal ingredients, cara cara oranges, a winter-specific variety of citrus known for its berry-like sweetness. With dark blood oranges, toasted goat cheese, sunflower seeds and a Meyer lemon vinaigrette, the bright flavors combine to make this one of Chef's favorite dishes.
Kurobuta Pork Shank Tacos — Inspired by childhood dinners with his family, Eric's take on carnitas tacos features a bone-in pork shank braised in house-made mole, served family style. "For a comforting dish like this, it's all about the shared experience of sitting together at the table to eat as a family," said Eric.
Arancini — These crispy cheese-stuffed risotto balls are packed with melted mozzarella and parmesan-reggiano cheese, but according to Chef, the real star of the plate is the tomato sauce, made with sweet San Marzano tomatoes imported from Italy. 
Full menu available 
here
.
ABOUT HEARTH AND HILL:
A beloved family-owned and operated Park City eatery, Hearth and Hill is a popular "gathering spot" where guests enjoy dependably great food and service. Since opening in December 2018, the award-winning Hearth and Hill team, led by accomplished Park City restaurateur Brooks Kirchheimer, has been
committed to "'Inspiring our associates, thrilling our guests, and enriching our community."
The menu composed of healthy, delicious food and drink offerings feature locally sourced ingredients, presenting a fresh take on contemporary American cuisine for lunch, dinner and Sunday brunch, complemented by a full bar program of seasonal and signature cocktails/mocktails, craft beers
and a carefully curated wine collection.
The restaurant has received abundant
recognition, including the
Park Record's
annual "Park City's Best" awards,
Gastronomic SLC's
"Reader Choice" awards, and
a prestigious 2021 Blue
Plate award from
Salt Lake Magazine
. Hearth and Hill is located at 1153 Center Drive, Park City, UT 84098.
It's open
Monday to Saturday 11:30 am – 8:30 pm, and Sunday 10:00 am – 8:30 pm.
For more information, please visit 
www.hearth-hill.com
and follow on social @hearth_and_hill. 
---