Hometown restaurant might be in a hotel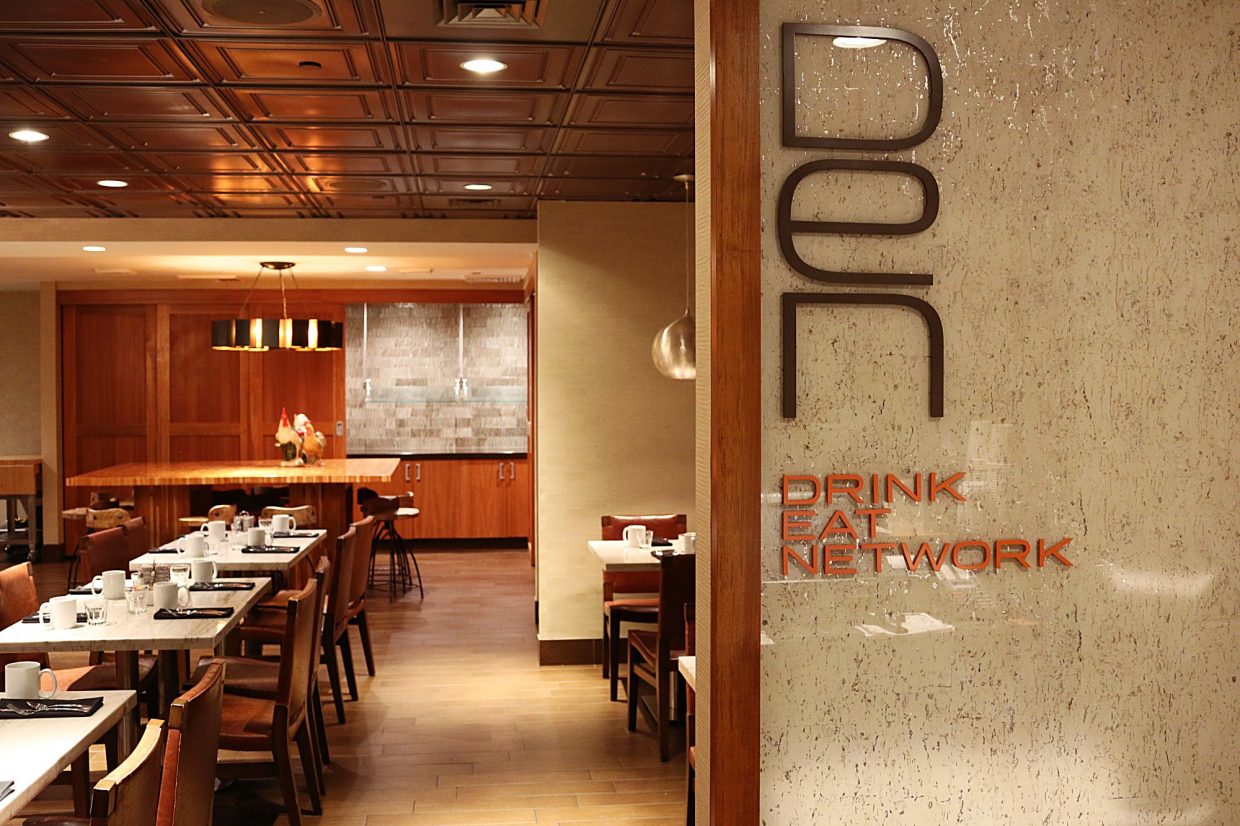 There's a restaurant in town that may get overlooked by residents because it's wrapped in a hotel with a nationally known name. But Park City Marriott General Manager Luis Olivas hopes that will soon change with an upgrade of DEN Restaurant's winter menu.
DEN is an acronym for Drink, Eat, Network.
"The winter menu is moving to more house-made items: house-made pork bellies, house-made pork roast. We're making our own dressing for salads and creating house-made sauces for our dishes," Olivas said. "It gives more personality to the menu, and lets us personalize the dishes. I'm excited for this new menu."
Residing inside the hotel means that most of the restaurant's clientele are visitors staying at the Marriott. And visitors have specific desires, Olivas said, especially for breakfast.
"Travelers want a breakfast that's good, hot, fills them up, and gets them on the mountain as soon as possible," he said.
DEN's breakfast buffet opens daily during the busy winter season, and offers choices of eggs, a variety of meats, fresh fruit, oatmeal and cereals. One of the four hot dishes on the buffet is always a chef's selection, which varies daily from breakfast burritos to French toast, according to Olivas.
The uninitiated shouldn't equate fast service with low quality, however, he added. "It's efficient, but everything is still house-made. It's very different from anything prepacked you might buy."
Lunch extends to quick dishes to feed employees on a business lunch, or families taking a break from time on the snow. DEN offers grab-and-go items like sandwiches, burgers, wraps and flatbreads. One of Olivas's favorite dishes is the Signature Cuban Sandwich, with house-cured pork belly and house-cured pork roast.
Olivas has been working with DEN's Executive Chef Derek Diamanti on the upcoming changes to the menu this winter. The food, dubbed "mountain modern", reflects the fresh side to Park City's personality. There are items on the menu expected on a mountain-based restaurant, such as steaks, but with a modern twist, Olivas said.
Remodeled four years ago, the restaurant's aesthetic also reflects the mountain modern sensibility, incorporating Park City's colors and personality into its décor, artwork and furniture.
"I think a lack of knowledge about what we offer is what might keep some locals from coming here," Olivas said. "A hotel doesn't always have the image of a nice dining experience."
And although all three meals may offer a great service, the new dinner menu will also offer versatility for guests and locals.
"There will be entrees, such as steak, chicken and seafood, but there will also be lighter fare from the lunch menu, and salads that can be personalized," he said.
The versatility of house-made ingredients allows DEN to address diners' needs. "We really want to make sure we cater to everybody's different tastes or dietary restrictions," Olivas said. Preparing vegetarian and gluten-free dishes are no problem, he added.
Even the kids menu reflects that attention. Kids might notice familiar food names like pizza, or mac and cheese, but parents will notice the house-made pizza dough and truffle oil in the mac and cheese.
During the shoulder season, DEN opens for breakfast and lunch, but dinner service begins as the town grows busier mid-December.
The DEN Restaurant is located inside Park City Marriott, 1895 Sidewinder Drive. DEN is currently open for breakfast and lunch from 6:30 a.m. to 2 p.m. Monday through Friday and from 7 a.m. to 2 p.m. Saturday and Sunday. DEN will extend its hours to include dinner service in mid-December. For more information, call 435-615-4525 or log on to marriott.com.
---