Riverhorse Provisions affords food for home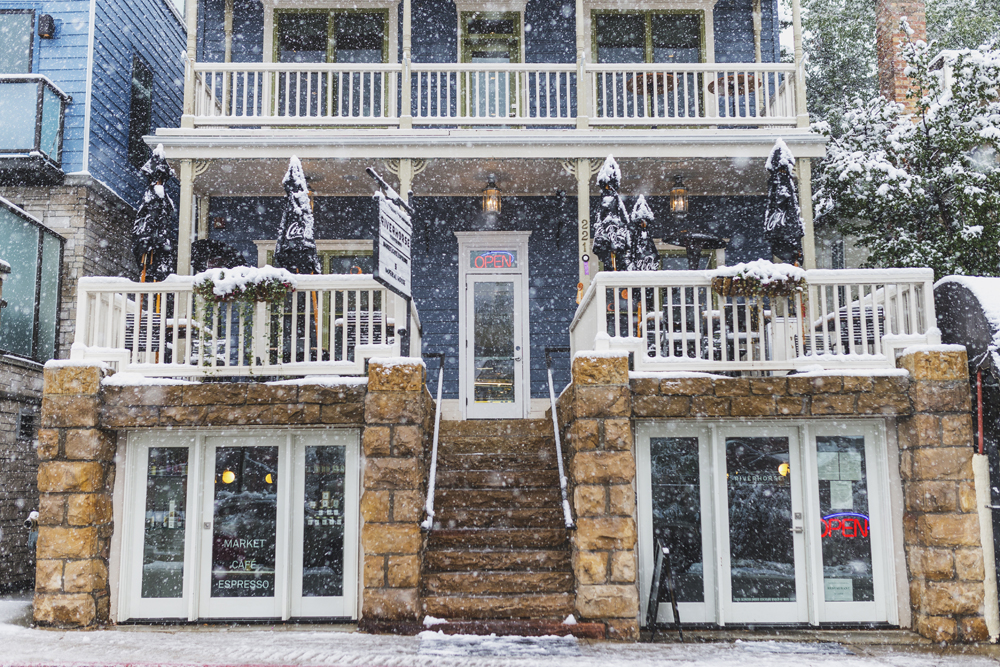 Part market, part café, Riverhorse Provisions brings another facet of the Riverhorse name and executive chef Seth Adams's vision to Main Street. The cozy space occupying two floors of the renovated and historic Imperial Hotel offers a full menu for breakfast, lunch and dinner, as well as snacks, fresh produce and gourmet groceries to either enjoy on-site or take home to cook and eat.
"A lot of visitors need this kind of food, because they don't have a full pantry in their lodging," Lee Ellenburg said. He's recently come on board as the director of operations for Riverhorse Hospitality, the umbrella company for Riverhorse's growing brand. He also oversees the front end of Provisions.
While Main Street has a generous helping of sit-down restaurants, coffee shops, and take out opportunities, Provisions' niche lies the in-between: a blend of deli salads, desserts, and specialty items served next to meals partially cooked, cooled, and ready to be finished at home.
Chef Adams and his team created the menu at Provisions to reflect and expand the eclectic American cuisine that helped build flagship restaurant Riverhorse on Main's reputation.
Breakfast dishes, for example, include polenta French toast with maple cream and a breakfast wrap with house-made sausage, farm fresh eggs, cheddar and pico de gallo wrapped in a spinach tortilla. Lunch choices include Bison burger, braised pork belly BLT and an enthusiastic staff favorite: fish tacos.
During the warmer months, Provisions also created picnic baskets and picnic lunches for those wanting something ready to eat outdoors. Choices with baskets varied between cheeses, fruit and charcuterie, a seafood sampler and baby back ribs.
"The DNA of the kitchen at Riverhorse on Main has made it so successful here the last six months. The chefs are passionate about their work; they're excited about their work," said Ellenburg.
And although the shelves do have prepackaged items such as spreads, crackers, chips and even an eye-catching apple drinking vinegar, the popularity of the house-made foods has been the market's early success, Ellenburg said.
Provisions has evolved to provide more cooked and partially finished foods over the nine months it has been open. The ultimate goal is to stock the market with about 75 percent Riverhorse-created foods, Ellenburg said.
And even though customers can stand at the deli counter and look directly into the activity of the kitchen, there's an important part they may not see: the culture of the business.
"In this business, when you see the food come out in a consistent basis, and the service is at the level it is, then whoever is running that place has their act together. [The Riverhorse on Main] is the most professional kitchen I've ever witnessed," Ellenburg said.
Ellenburg says he shares Adams' philosophy and desire to have Riverhorse Provisions operate at the same level as the main restaurant.
"They (staff at Riverhorse on Main) have been nailing it for a decade, and Seth is due all that credit," he added.
Current and future plans
Ellenburg came on board earlier this year to help Adams and his business partner Dave Spence expand the reach of the umbrella company Riverhorse Hospitality. Provisions becomes the next step in the company's growth, as well as the rental and event space directly above in the Imperial Hotel.
The company is creating a production kitchen in the Silver Creek area, near the Summit County Justice Center, with a possible small retail outlet to serve the growing population in that corner of the county.
Riverhorse Provisions is open seven days a week, from 7:30 a.m. to 7 p.m. at 221 Main Street in Park City. For more information, contact them at (435) 649-0799 or visit their website.
---