Windy Ridge Café is a favorite among locals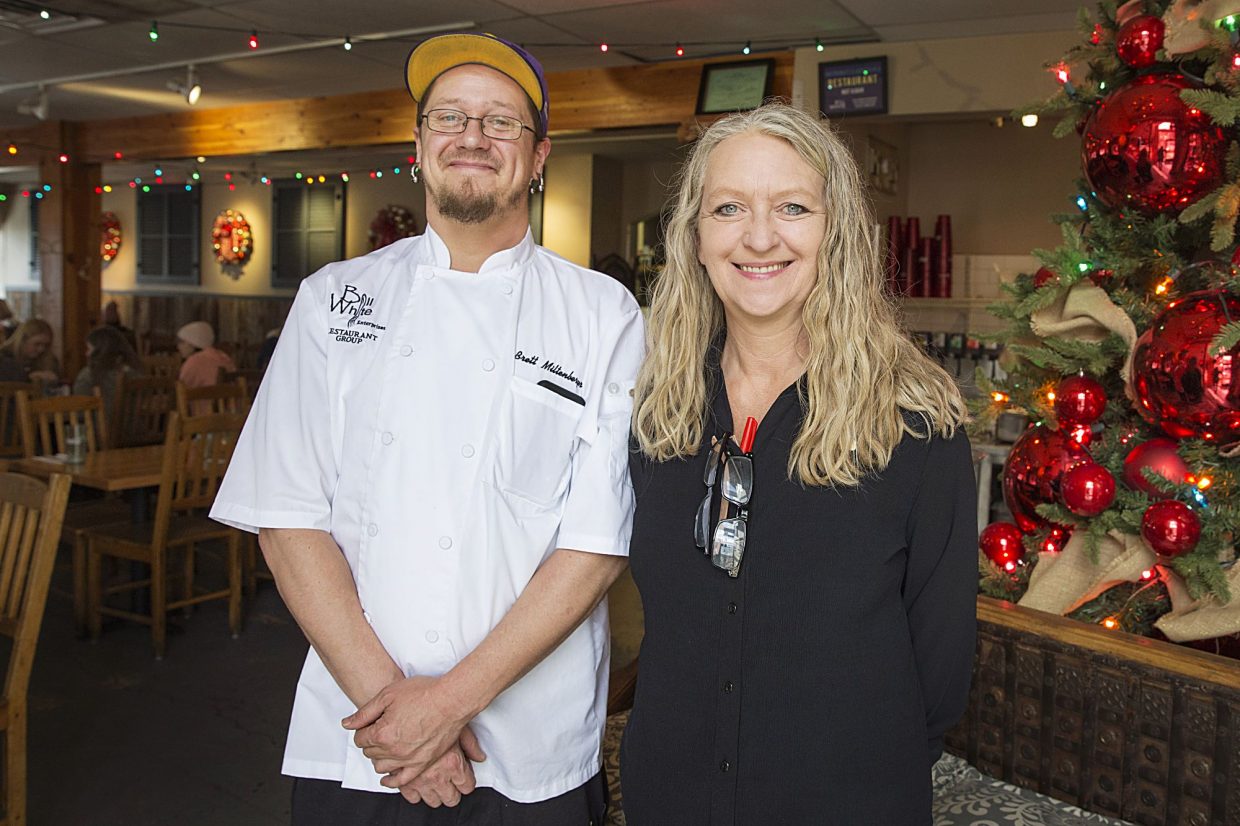 Located in a building with a simple facade, away from the foot traffic of Main Street, and in an area called the Warehouse District, Windy Ridge Café is one of Park City's worst-kept secrets, especially among locals. Away from the combined effects of other shopping and dining hubs in town, it has become a destination restaurant, and recently, Windy Ridge held an event to bring its dining community together.
On Nov. 9, Windy Ridge hosted its third annual Beer Dinner, showcasing a special menu created by chefs of the Bill White Group, Brett Miltenberger and Stan Battle. The 2017 event also featured Red Rock Brewery beers with Red Rock's Master Brewer Kevin Templin.
"Every [Bill White] restaurant has one thing… I came from a beer background, and I have a passion for beer, and thought, wow, let's have a beer dinner. And they just went for it," General Manager Cindy LaFaver said.
"We do it to showcase the Café, because there's a bunch of people in Bill White land who don't come to the Café. They go to Main Street [for fine dining], and they go to their country clubs for their local joint," she said.
"The Beer Dinner is a gathering of people enjoying two of my favorite things – really good beer and really good food," she added.
LaFaver sees Windy Ridge as a "locals' joint," with all the perks of any Bill White-owned restaurant: great, consistent food; friendly, professional service, but also an easy – but less traveled – location, and lower prices than the fine dining options.
"One of my favorite parts of working here is that every day, I will be seating someone, leading them back to a table, and they will have to drop by five tables to say hi to people they know," she said.
Windy Ridge has already started its winter menu, which includes an update to dishes such as the kale salad and meatloaf, and added a rib eye steak that is a little pricier than the average menu item.
Changes to the menu, even the favorites, is part of a restaurant's natural evolution, LaFaver said.
"I think it's a much better meatloaf, but we have some people we have to convince with, 'Really; try it," she said. "I've always wanted to do a ribeye, that's kind of expensive for the Café, but we sell it, because we love it."
"We make our food. There's a lot of process to go into, so it's difficult to do specials," LaFaver said. "So we get about a 50 percent mix [who don't want menu item changes] and 50 percent who say, 'I've had every single item on your menu.'"
LaFaver says the menu will evolve as more locally-sourced material becomes available.
"I want more egg dishes on the menu because we have Bill White farm eggs now," she said.
LaFaver's favorite dish is the horseradish-crusted salmon with lemon-herb cream and seasonal vegetables. It is one of the top sellers on the dinner menu. It is also one of the dishes that is perfected the way it comes out of the kitchen, LaFaver will encourage patrons to try it as is, instead of asking for modifications.
Development of the menu for the beer dinners will likely keep it to a once-a-year event, but the process of earning the title "locals' joint" is a daily goal.
"I want this to be the best possible place to come as a guest, and I want this to be the best place to work. When you always have that in mind, everything else is cake," she said.
Windy Ridge Café is located at 1250 Iron Horse Drive in Park City, and is open from 11 a.m. to 9 p.m. For more information, call 435-647-0880 or head over to their website.
---